Safety Guard Rail
Safety guard rails is mainly used for separating and defining aisle ways, large work areas, walkways and inside loading docks is always a challenge for industrial engineers, plant operations personnel and safety managers.
Guardrail barriers often need to be removed temporarily for unobstructed maintenance or other access to an area. Layout flexibility and the ability to relocate barriers at minimal cost is an important factor.
Dafa Safety Barrier provides a substantial highly visual physical barrier that addresses all of these issues.

Finishes: Hot dipped galvanized.
Material: Galvanized steel or other metals.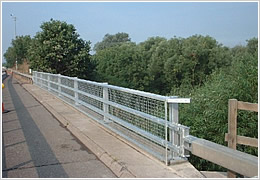 Separates and Defines:
Large work areas
Long walkways
Interior loading docks
Excellent Visibility:
36" tall curtain
48" above the floor
Stops 200 pounds force with minimal deflection
Clean aesthetic appearance
Up to 60 Foot Span:
Easy to install or relocate
Four anchors per post
30 foot span also available
Simple Access When Needed:
Simple operation
One person - two minutes or less to position or retract and store
Built in curtain storage system