Thrie Beam Guardrail Safety Barriers
Dafa manufactures and supplies both W beam (or two wave) guard rails and thrie beam (or three wave) guard railings, while the thrie beam type offers more durability and strength compared with the W beam railing panels. Detail introduction to the Thrie Beam Safety Guardrails follows.
Types of Thrie Wave Beam Guardrail Barriers according to finishes:
As guardrails are mainly used for highway and other exterior environment, the anti-corrosion surface treatment is very important to ensure its working condition and service time. We supply two major types of finishes for our thrie-beam guardrail products to achieve durability and a maximum strength: Hot dipped galvanizing and powder coating.
Both coatings can give the steel highway guardrails a protection against corrosion and rusting and prolong the service life of the guard railings. The plastic powder coating can supply a variety of colors (green is the most popular color) which makes the guardrails more beautiful and apparent to the passengers and drivers. Our customers can choose according to their individual demand.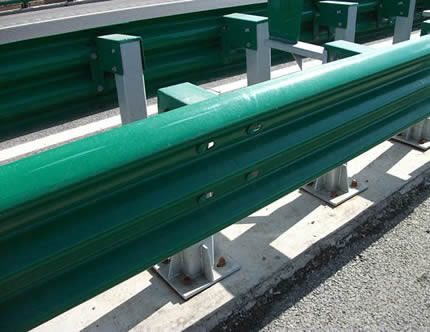 Green Powder Coated Thrie-Beam Safety Guardrail Panels

Straight Thrie Beam Guardrails Treated with Bright Zinc Coating Surface
Major Applications:
Thrie-beam steel guardrail when installed on the highways and roadways plays an active role in the prevention of vehicular impact, vehicle overturning and run-off-road collisions.
It finds popular uses in interstate highways, highways, secondary roads, common roadways, municipalities, industrial parks, bridges and other public areas.
Standard We Follow for Production:
We manufacture two wave and three wave beam type steel guardrails according to China standard, USA standard and Germany standard, listed as below:
a. JT/T 281-1995(Corrugated Sheet Steel Beams For Expressway Guardrail - China)
b. AASHTO-M180 (Corrugated Sheet Steel Beams For Highway Guardrail - USA)
c. RAL RG620 (Germany)
Thrie Beam Guardrail Features and Benefits:
Thrie(three)-wave-beam guardrail features the three waves of the railing panels, which has an added corrugation and an increased surface area compared with the traditional W beam or two wave beams. The three wave beam structure enables a stronger construction and a higher impact endurance. Compared with the two wave guardrail beams, thrie beam guardrails proved a remarkable resistance against the crash force through testing.
Dafa Thrie Beam Guardrail is a perfect combination of high quality material (including Q235, Q345, etc.) and excellent surface treatment of anti-rusting and anti-corrosion via zinc or PVC coating. Offering a long-term corrosion and rust resistance means the thrie beam guardrail system works for a long time and costs effectively.
Benefits:
- No offset block required
- Higher durability and strength than W-beam guardrails
- Absorb maximum energy of the impact force
- Redirect the mobile equipment as fast as it can
- Visual remand of the transition to highways or bridges
- Preventing the pedestrians from walking across highways ignoring the running cars
- Protect the vehicles against skidding off roads, especially mountain roads and bridges.
Popular Specification of Thrie Beam Guardrail Plates, Straight type:
thrie-beam

Railing Length

4100-4400mm

Wave width

400-900mm

Wave height

50-100mm

Plate Thickness

2-6mm

Zinc coating

Weight

More than 500g/m2

Thickness

More than 70μm as your requirements
Three-Wave Beam Guardrail System Composition: Guardrail Beam, Terminal End, Posts and Other Accessories.
An effective guardrail barrier system is composed with Guardrail Beams, Terminal Ends, Posts and other fixing accessories. Both finishes of hot dipped zinc coating and pvc coating are available for the beams, terminals, posts and other parts.
We offer two kinds of terminal ends for thrie beam guardrail system according to the design variety. The guardrail terminal end is designed to warn the driver not to impact or noticing a transition to high traffic or high speed way.

Guardrail terminal end painted in eye-catching black and yellow color
Traditional Warning Terminal End:
This kind of terminal ends feature perfect impact performance and widely used on the end part of traditional w-beam or thrie beam guardrail to providing a cushion during collision.

Hot Dipped Galvanized Steel Terminal Ends, Designed for Thrie Beam Guardrail System with Slotted Holes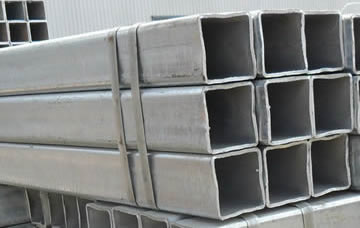 Square Tube Galvanized Steel Guardrail Post

H Shape Post

Galvanized Steel Caps


Steel Caps with Pvc Coating Finish
Bolts and nuts:

PVC coated Bolts and Nuts for Fixing of Guardrail Beams

Galvanized Steel Bolts and Nuts